Understanding India's sunrise mental health landscape
The 2022 World Mental Health Day theme is 'Make Mental Health & Well-Being for All a Global Priority'. It provides us with an opportunity to re-kindle our efforts to make the world a better place. World Mental Health Day was observed for the first time on 10 October 1992. The day, officially commemorated every year on October 10th, aims to raise awareness in the global community about the critical mental health agendas – with a unifying voice through collaboration with various partners – to take action and to create lasting change. This year, the World Federation For Mental Health1 has launched the WMHD 2022 website as a part of their global campaign.
The year gone-by posed numerous global challenges – the COVID 19 pandemic, the Russia-Ukraine war and extended geo-political implications, the Afghanistan crisis, refugee crisis, economic challenges particularly in countries like Sri Lanka and Pakistan, inflation, funding winter for startups, and climate related challenges. All of this has in one way or other have negatively impacted the mental wellbeing at a global level. In such a grim global scenario, the theme for WMHD 2022 aptly calls for making mental health a global priority and urges for united international efforts. It also highlights that unless mental health is not prioritised and significant investments are made by countries, the 2030 Agenda for Sustainable Development and Sustainable Development Goals (SDG's) adopted at the 70th Session of the UN General Assembly in 2015 cannot be achieved.
"Without determined action, the mental health impact may last far longer than the pandemic itself"

António Guterres, Secretary-General of the United Nations
What does the data say about Mental Health?
I believe most of us are either unaware or are living in denial of the grim reality about the extent of mental illnesses. The numbers are staggering. Let us look at the numbers of the world first.
Before the pandemic in 2019 an estimated one in eight people globally were living with a mental disorder.
Estimates put the rise in both anxiety and depressive disorders at more than 25% during the first year of the pandemic. At the same time, mental health services have been severely disrupted and the treatment gap for mental health conditions has widened. At the same time, the services, skills and funding available for mental health remain in short supply, and fall far below what is needed, especially in low and middle income countries.
In high income countries over 75% of people with depression have reported that they do not receive adequate care and in low and middle-income countries over 75% of people with mental health conditions have received no treatment at all.
An estimated 703,000 people die by suicide worldwide each year.
If that doesn't shake you, let us look at the numbers for India. As one of the most populous country of the world, which still falls in the "developing" category; the burden of mental health, unevenly, falls on India.
150 million (15 crore) Indians are in need of mental health interventions.
About 10% of the population has psychiatric morbidity and 0.8% has severe mental disorders.
In India, on an average, 418 people died by suicide every day in 2020. A total of 1,53,052 suicide cases. This puts the estimated count of attempted suicide at 30,61,040.
29 crore Indians are dependent users of alcohol, 25 lakh are dependent on cannabis, 28 lakh on opioid, 10 lakh on cocaine, 18 lakh on amphetamine, 12 lakh on hallucinogens, and there are 7 lakh children dependent on inhalants.
India has only 898 clinical psychologists against a requirement of 20,250. And only 3827 psychiatrists against a requirement of 13,500.
India was ranked 136 out of 146 countries in the United Nations' World Happiness Report, 20222.
Leaves me wondering, WHERE ARE WE HEADED AS A SOCIETY?
But are people looking for mental health support?
Clearly the burden of mental illnesses is gargantuan and the mental health support infrastructure is slim. But why this paradoxical situation? Anyone with a basic knowledge of economics would argue that if there is a demand of mental health services, the invisible hand of economics must ensure adequate mental healthcare supply. The problem is that it's a latent demand. Due to stigma and taboo associated with the notion of mental health, and the lack of awareness, many of us are suffering silently.
When was the last time you considered seeking help from a friend, family member or a therapist? Rather suffer than appearing weak? Mard ko dard nahin hota? 🙄
Such attitudes are clearly unsustainable. And fortunately, they are changing. Let's have a look at this interesting 10 year graph from Google Trends.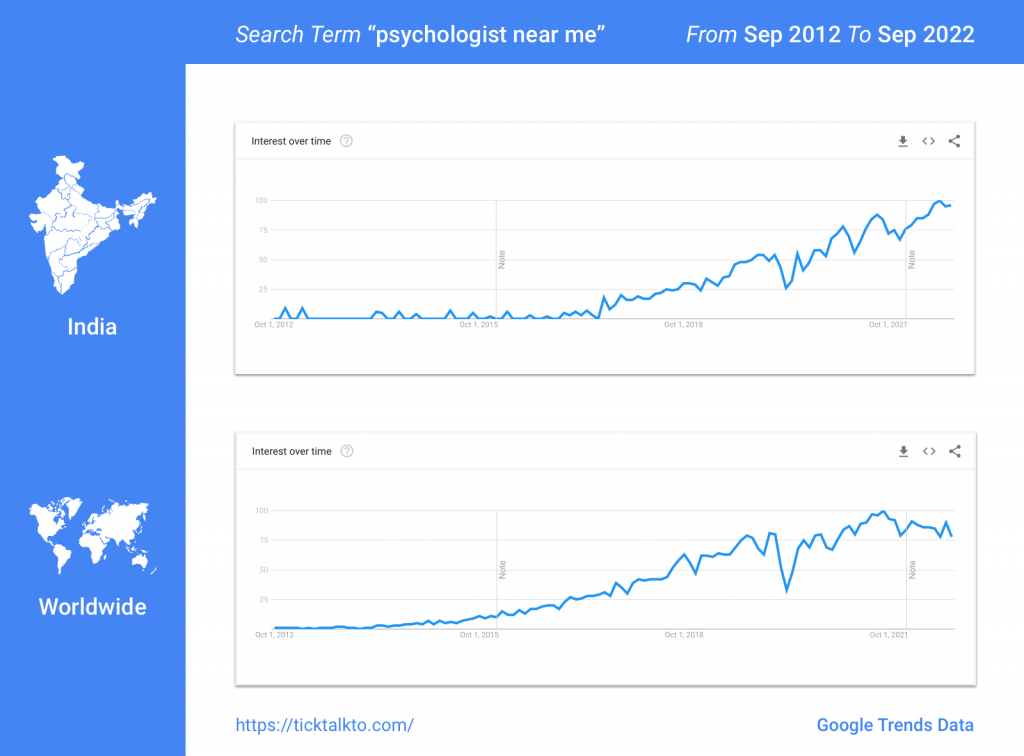 Well, if you look closely, the breakout for the term "psychologist near me" happened in 2013-14 worldwide and about 4 years later for India. This means – we are acknowledging the problem and we are searching for help.
Not convinced? Think about the your favourite Netflix/Prime/Sony Liv/Zee5 series – The Family Man, Masaba Masaba, Ghar Wapsi… or even Bollywood movies like Dear Zindagi. There are good chances there is a therapy scene, however insensitive. Think about daily newspaper, you can't miss the reference to mental health in the health section. Think about social media news channels – the Quint3, the Brut4 and the WION5, who regularly have a feature on mental health. Think about your favourite social media influencers.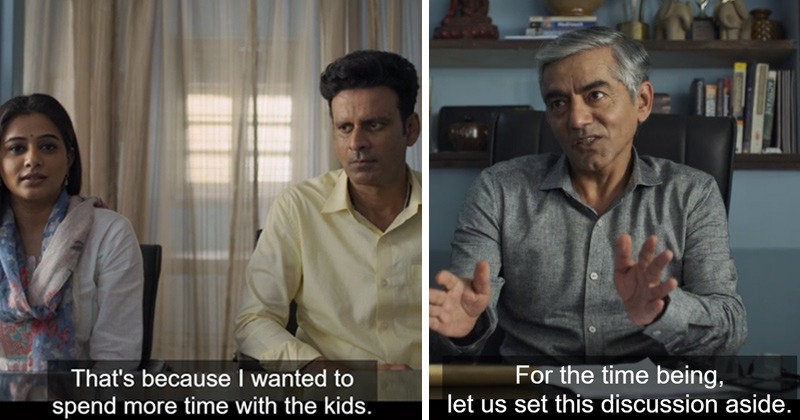 If nothing else, think about how often the word stress and depression is used in our day-to-day conversations at workplace and at within family.
I am convinced that there is an increasing public discourse around mental health, especially in the post-COVID world, which is creating the much needed awareness and ending the stigma. We are becoming more sensitive to our mental health needs.
So what's happening on mental healthcare supply side?
This a tricky question. My quick answer would be – A lot is happening. But a lot more is needed.
Government of India (भारत सरकार)
Let us look at few of the important initiatives by Government of India,
India's Finance Minister Nirmala Sitharaman announced National Tele Mental Health Program in her budget speech in Feb 2022. This will include a network of 23 tele-mental health centres of excellence with NIMHANS (National Institute for Mental Health and Neurosciences) being the nodal centre and International Institute of Information technology (IIIT-Bangalore) providing technology support.
Ministry of Education launched Manodarpan – Psychosocial Support for Mental Health & Well Being of Students during the COVID Outbreak and beyond, in 2021
NIMHANS launched a national helpline for psychosocial support and mental health services in May 2021.
In 2018, the Insurance Regulatory and Development Authority (IRDA) issued a circular that every insurer shall make provision for medical insurance for treatment of mental illness on the same basis as is available for treatment of physical illness.
In 2018, the Medical Council of India (MCI) included mental health to the medical curriculum.
Govt. of Delhi launched the Happiness Curriculum in schools in Feb, 2018.
These are amazing initiatives. Many are perhaps a first globally.
But a lot more is desired. We need to put our money where our mouth is. India's mental health budget is a measly Rs. 670 crores. Furthermore, nearly 93 per cent of Rs 630 crore is for funding two institutions run by the Central government, namely NIMHANS (Rs 560 crore) in Bangalore and LGBRI (Rs 70 crore) in Tezpur. The government funds the District Mental Health Programme (DMHP) in 704 districts. However, there is no increase in the allocation for each district, which has remained a meagre Rs 83 lakh (the maximum amount for an entire district) for the past many years.
We must increase the budgetary allocations to these amazing initiatives for the sake of impact, reach and speed.
Full disclosure – TickTalkTo has raised funds from DST, MeitY and Govt. of Telangana.
The Wild World of Startups and VCs
Next, let us look at how mental health startups and VCs are playing their part.
The Silicon Valley has already minted unicorns like Headspace, Calm, Talkspace and many more. The space has also seen some high profile acquisitions like Ginger, Refresh and AbleTo. And as expected, the usual move-fast-break-things approach has been detrimental to mental health of thousands. The recent free fall of the unicorn Cerebral highlights this loudly6.
But what's happening closer home in India? VCs are wait-and-watch while many brave founders are marching ahead.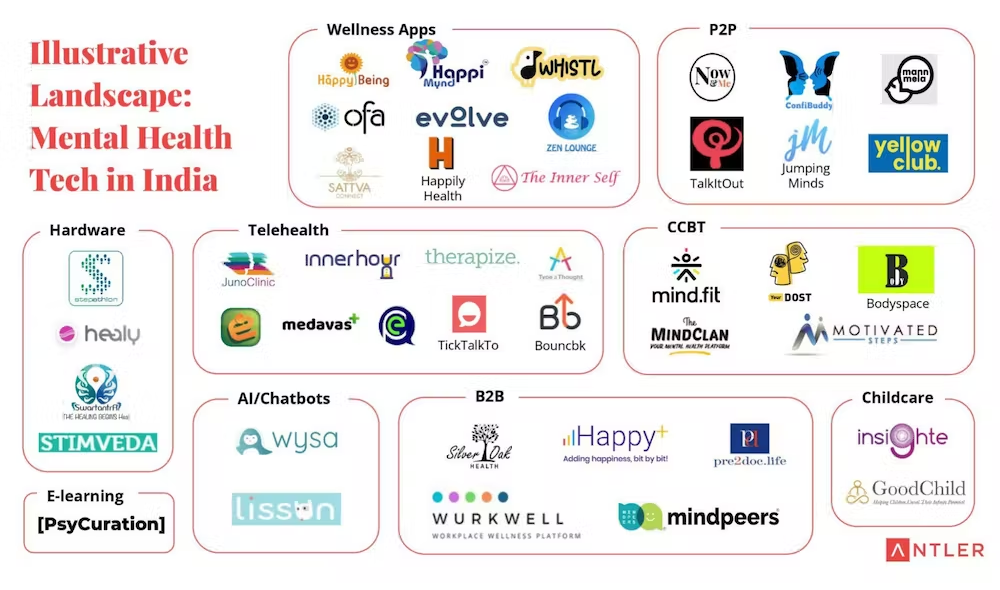 Let me start by setting some context. The tech startups in mental health space can be categorised largely into two types, one is the CCBT (Computerised CBT) and the other is Tele-Psychology. CCBT based startups are the ones which rely on self-help content and machine learning algorithms to mimic therapy. Think of mindfulness based apps, journaling based apps or chatbots like Wysa and Woebot. The tele-psychology based startup are the ones which operate like tele-medicine platforms like Practo and are focussed on 1-to-1 therapy sessions with a real human psychologist or therapist. TickTalkTo falls in the tele-psychology category.
CCBT based startups are making news. Wysa is leading the path in the world of CCBT (Computerised CBT). It has secured $20M funding and received FDA's Breakthrough Device Designation. InnerHour has secured a $5.2M funding and rebranded as Amaha. Others making positive news include Being, Evolve etc.
Questions around AI based CCBT apps, particularly chatbots, continue. John Oliver recently ranted against apps like Woebot. Here are a few tests conducted by BBC which point to the challenges with chatbots.
With the recent decimation of tele-medicine apps like Lybrate and MFine, it appears that tele-psychology based startups will have challenges raising funds. The startups in this space include TickTalkTo, YourDost, Heal.expert and iWill etc.
Many independent practitioners are establishing and expanding their physical practices. They are also adopting and growing their digital footprint. Checkout the wonderful work done by Trijog, Healthy Minds Healthy Lives, Global Child Wellness Centre and Way to hope.
A niche emerging for mental health startups is going B2B via the Employee Assistance Program (EAP). Many mental health startups like 1-to-1 Help and Take Help are purely B2B. Shameless plug, TickTalkTo Business also offers corporate EAP services.
For B2B corporate wellness, there is a shift towards providing a comprehensive package – health checkups, diagnostics, pharmacy, online consultations, and even health insurance. Now these players are including mental wellness as well to their offering. Think of full-stack corporate wellness providers like Tata 1MG, Nano Health, Ekin Care, Nova Benefits and Max Healthcare etc.
The VCs interest in the mental health sector which was peaking during the times of pandemic seems to be waning now. Although there are a few exception like the WHealth Ventures and Antler. Antler recently released this amazing video – Theory of Next, which describes the mental health ecosystem in India. If you have managed to stay with me till now, I will highly recommend watching this video.
Another interesting development in the field is the rise of grants in the pandemic period. Many VCs have come together to provide grants via bodies like the ACT grants and IKP Knowledge Park's COVID Fund. The government bodies like DST and MeitY are also supporting mental health startups. A notable initiative by Government during this period was the CAWACH initiative.
There are some startups which are going niche in particular areas like – ThatMate and MindOn are targeting school mental health, Seek which is focussed on eastern meditations; Mannki, which is building digital biomarkers for mental health, Ratan Tata backed Goodfellows offers companionship for the elderly, PsyPack which is enabling practitioners bring more evidence and measurement to their therapy practice, and PracticeID is helping therapists take their private practice online.
There are also legacy players like Fortis who have their own dedicated school mental health programs. Another company Pearson – a leader in the test publishing offers product and solutions for mental health and educational professionals and institutions. It also offers trainings through its Pearson Academy India initiative for school professionals, to address key issues around mental health and well being.
A notable attempt during the pandemic times was by a central team of BCG to bring various mental health providers and other health providers on a single platform – Swasth Alliance. It's unclear how these super-apps will perform in India.
I don't have any names to share but there are murmurs of few startups focussed on establishing chain of rehabilitation centres.
A big shout out to few of the startups who shut shop but did wonderful work and inspired us – Agam Garg's PekoLife, Dhwanil Shah's Aurum, Suraj Chawla's UNX Life and Mikul Patel's MoodCafe.
My take is that despite the challenging macroeconomic environment for startups in general, fundamentals of mental health startups are strong. Some of us will persist and survive. And it will be these startups which will be the ones who will make significant positive impact on India's happiness and mental well-being.
Non-Profits, NGOs, Activists and more
Startups usually steal the limelight. But the foundations of mental health support structure in India has been laid by some amazing non profit organisations and individuals who are making real difference on-ground. They are the thought leaders and change-makers.
Let us dive in;
Mind@Ease, a Corporate Social Responsibility initiative of Tech Mahindra Ltd, aims to provide an aggregated solution of various counselling services offered across the country. Also, they are working with various governments to train teachers and sensitise them about mental health of school students.
The Mariwala Health Initiative is dedicated to bringing together several mental health services to a wider audience, through funding, dialogue, advocacy and destigmatisation. They are doing some amazing work in niche areas. Do check them out.
Deepika Padukone's The Live Love Laugh Foundation combines knowledge and domain expertise to create awareness about mental health, reduce stigma associated with mental illness, and provide credible mental health resources.
The are some amazing suicide and crisis support helplines – AASRA, iCALL, Roshni Helpline, Samaritans Mumbai, SNEHA, Vandrevala Foundation etc. We have a dedicated blog post – Self-harm, suicide prevention and India crisis helplines, to highlight their amazing work.
There are a few amazing individuals who are changing and defining the narrative of mental health in India. Check out my favourites Tanmoy Goswami's Sanity by Tanmoy, Nelson Vinod Moses's SPIF, Bhairavi Prakash's Mithra Trust, Prachi Deo's Nayi Disha and Ashi Singhal's HeyEmotions.
Insurance and Pharmaceutical companies
Well, this is a very early trend and I am not sure if it will stick. To increase their "touch-points" with the end-user, insurance and pharmaceutical companies have started collaborating with new age mental health startups.
Insurance companies like Aditya Birla Health Insurance and Aegon etc. have started adding mental wellness services as VAS – Value Added Services. This is an opportunity for mental health startups to get access to the insurance companies' subscribers. Although I hear that the usage via these super-apps of insurance remain low since mental health VAS is buried deep down in these apps.
We are still to see any noteworthy movement based on 2018 direction of IRDA to all Insurance Companies to make provision for medical insurance for treatment of mental illness on the same basis as is available for treatment of physical illness with immediate effect.
You might have heard about pharmaceutical companies like Cipla and Dr. Reddy's collaborating with diabetes apps like BeatO and Wellthy. It appears that the next line of collaborations could be with mental health apps. If this happens, mental health startups could have an additional source of funding from the cash-rich pharmaceutical companies.
Conclusion
The more you read, analyse and research about it, the more you realise that mental health challenges are multi-headed and need a multi-pronged approach.
We need to look at mental health services in a spectrum that ensure complete care. Community awareness, skill building and preventive mental health, crisis intervention ( helpline) support, tele mental health and AI based support, OPD for all disciplines in mental health across age groups for acute and maintenance and rehabilitation care, support groups, in patient care, de addiction programs, long stay rehabilitation and advances techniques – all of these need to be a part of the mental health care approach for the society. This needs everyone to play their part for us to be able to provide for mental health care for all.

Dr. Samir Parikh
Director-Department of Mental Health and Behavioral Sciences
Fortis National Mental Health Program
My predictions for the mental health ecosystem
My last year's WMHD post did not have any predictions. But of course, I could have predicted all of the things that happened this year. 😝
I strongly believe when it comes to mental health in India. It's not a question of IF but WHEN. My guess is as good as yours. But it's FUN. So let's start the guessing game. Here are my broad predictions for the next year,
Mental Health budget of India will be increased in the next budget. The pilot phase of the National Tele Mental Health Program will be a success and scaling up will require more funds.
More and more corporates will be adopting mental health as part of their EAP. The way we work is changing and HRs are struggling. Think about the WFH, Great Resignation, Quiet Quitting, Thursday is the new Friday, Moonlighting and FatFIRE.
The flood of CCBT apps will intensify. And a lot of funding will be directed to these self-help apps. The likes of Headspace and Wysa have proven the subscription model and in the world of startups, imitating is a proven strategy.
We will have many more mental health influencers. The Gen-Z is serious about mental wellbeing and many of them don't shy away from posting a Reel/TikTok.
Many mental health startups will shut shop. Overall lack of funding an subdued interest of VCs in tele-medicine and mental health will dry up funds.
Universities and schools will be adopting mental health services for students. Parents want this. Government wants this. And the are UGC guidelines7 wants this. Leading universities like ISB, IIT Bombay, IIT Roorkee and TIET are leading this change.
New startups around provider tools will start emerging to support independent practitioners.
There will be a some startups venturing into tertiary mental healthcare starting with a branded chain of rehabilitation centres.
While it's impossible to predict the future, it is possible to write one. So I will get back to building TickTalkTo. Let us make mental health a reality for India.
More food for thought
If you want to explore this space further, here's are few of my favourite editorials;
I will love to connect with you. And share what we are building at TickTalkTo. Also, if you have any editorial suggestions for the post or want to get your perspective/work added to this post, please ping me on my LinkedIn. 🤙